4 min read
Adding Multi head Embroidery Machines Increased Production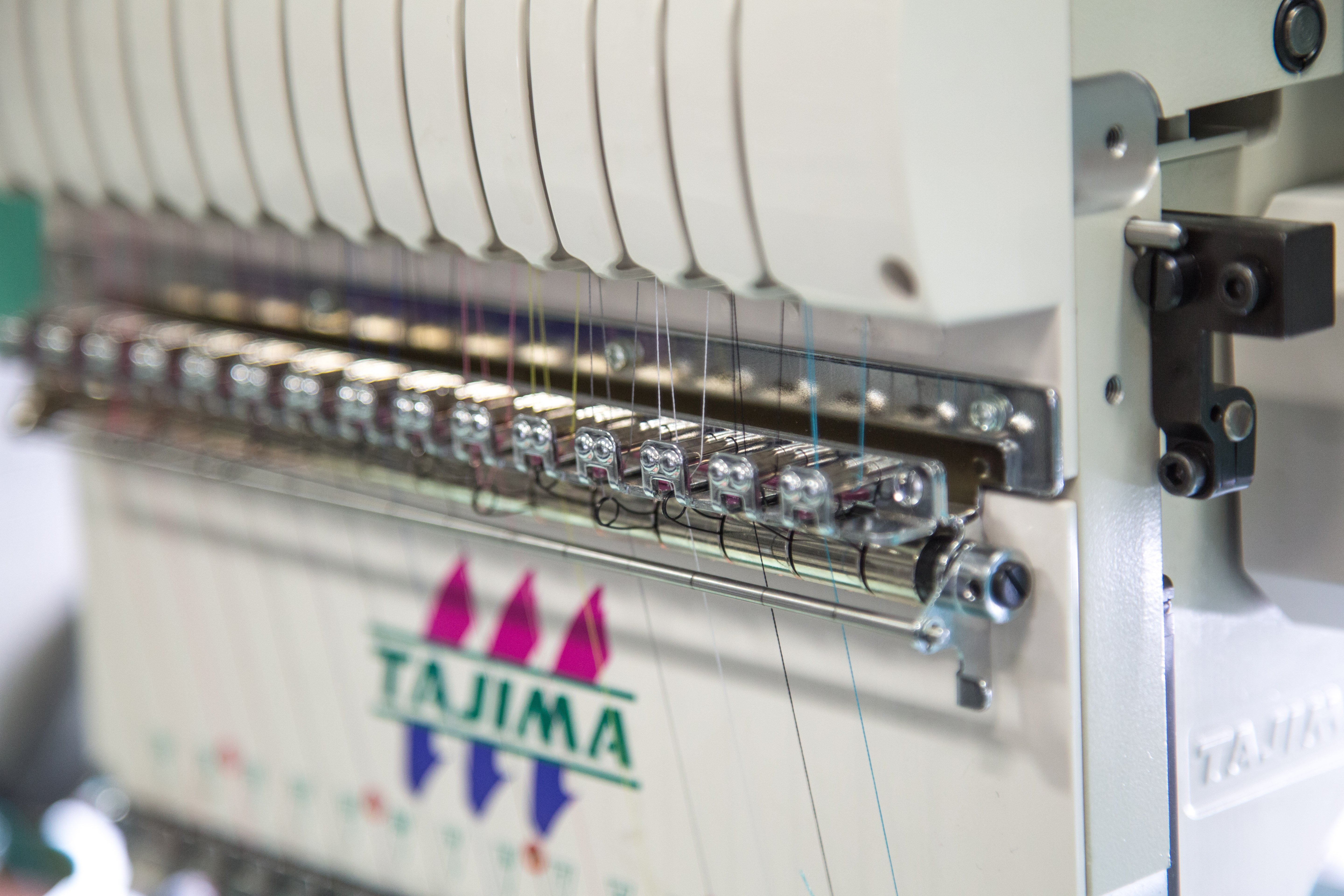 "Quality embroidery leads to reorders, repeat customers and even more customers wanting our services."
Jeane Manchester, Owner, The Right Stuff
Shop Stats
Location: Denver, CO
Year founded: 1989
Number of employees: 25
Embroidery heads: 49
Services offered: Embroidery
Business model: 100% contract
The Challenge
Denver, CO-based The Right Stuff is doing something right - the industrial-setting shop's been in business for 32 years. "However, the customer isn't always right, especially with embroidery on certain fabrics," quips Owner Jeane Manchester, who runs the shop with 25 employees. That's why Manchester's staff works hard to educate customers on just the right apparel to purchase for embroidery, for the best fit and the longest wear.


And, the customers keep coming back. "We've been working with some of our customers as long as the shop's been open," says Manchester, who left a career in the oil industry to stitch garments on a contract basis.
"It was kind of random," Machester says. "I met the owner of Spyder Ski Wear on a plane and he asked me if I could sew bugs on clothes."

Ready for a change, Manchester took the leap and quit her travel-heavy job. "Work in a warehouse? Don't wear a suit everyday?" she says. "It was a huge shift. The main thing when I started, though, was really understanding production."
Today, The Right Stuff primarily decorates apparel for customers in the advertising specialty, garment manufacturing, retail, resort and healthcare industries. "We've been blessed with customers who push our capacity," Manchester says. "When you service your customers well, their demands force your growth."
The RIght Stuff adds shifts and quality decorating equipment on the regular to accommodate that growth. "Quality embroidery leads to reorders, repeat customers and even more customers wanting our services," Manchester says.
The Solution
Recently, The Right Shop acquired four new eight-heads, the Tajima model TFMX-IISC-1508-360. "We're turning out 2,000 pieces a day, so we're doing straight crazy production on two shifts," Manchester says.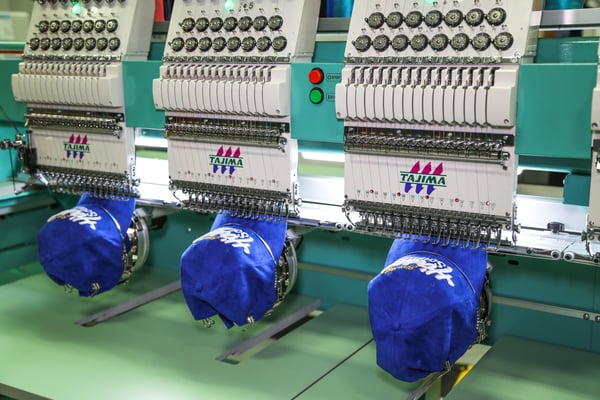 Manchester turned to Hirsch Solutions again for her investment. "We've always had a rapport with our Hirsch people," she says. "Plus Tajima is a known entity - we know the machines will last. We can fix minor problems as long as we maintain them."
The shop had relied on its 12-head machines for a decade prior. "We always wanted to have more than 100 heads, but through production experience we learned it's more about the number of heads that you can run efficiently," Manchester says. "Plus, Hirsch shows us what machines will work best with our capacity."
For example, "an operator running a smaller logo is running themselves ragged on a 12-head, and it's not cost-effective for two people to run the machine," Manchester says. However, one person can run an eight-head more efficiently. "We can have a lower number of heads and more shits to keep up with our volume," she says.
Manchester purchased her first Tajima machine in 1988. "We love to have our machines running for five to 10 years, and that's not unheard of with this brand," she says. "We rely on Tajima. I say, 'How much do you want your car in the shop?'"
The Results
For The Right Stuff, the economy's so good right now that the team turning out thousands of imprinted garments a day on new eight-heads can barely keep up. In 2018, the shop's volume skyrocketed by hundreds of thousands of pieces.
"This is what keeps me up at night," Manchester says. "I see only one solution: You either turn away customers or you add new equipment."

That's why Manchester is already considering her next equipment investment: two new eight-head embroidery machines. "The volume we do is what sets us apart from our competitors," she says. "That's why we've worked with lots of major industry companies for three decades."
And Manchester will again turn to Hirsch for her new equipment. "You're part of a family of Tajima people," she says. "You have to be human in this business."


Manchester's advice to newer decorators investing in their first pieces of equipment: Don't get mixed up in a numbers game. "Start with a machine that's easy to handle - and that will meet all your needs, say laser cuts and wide backs," she says. "Bigger isn't always better. Concentrate on doing things better so your customer's happier."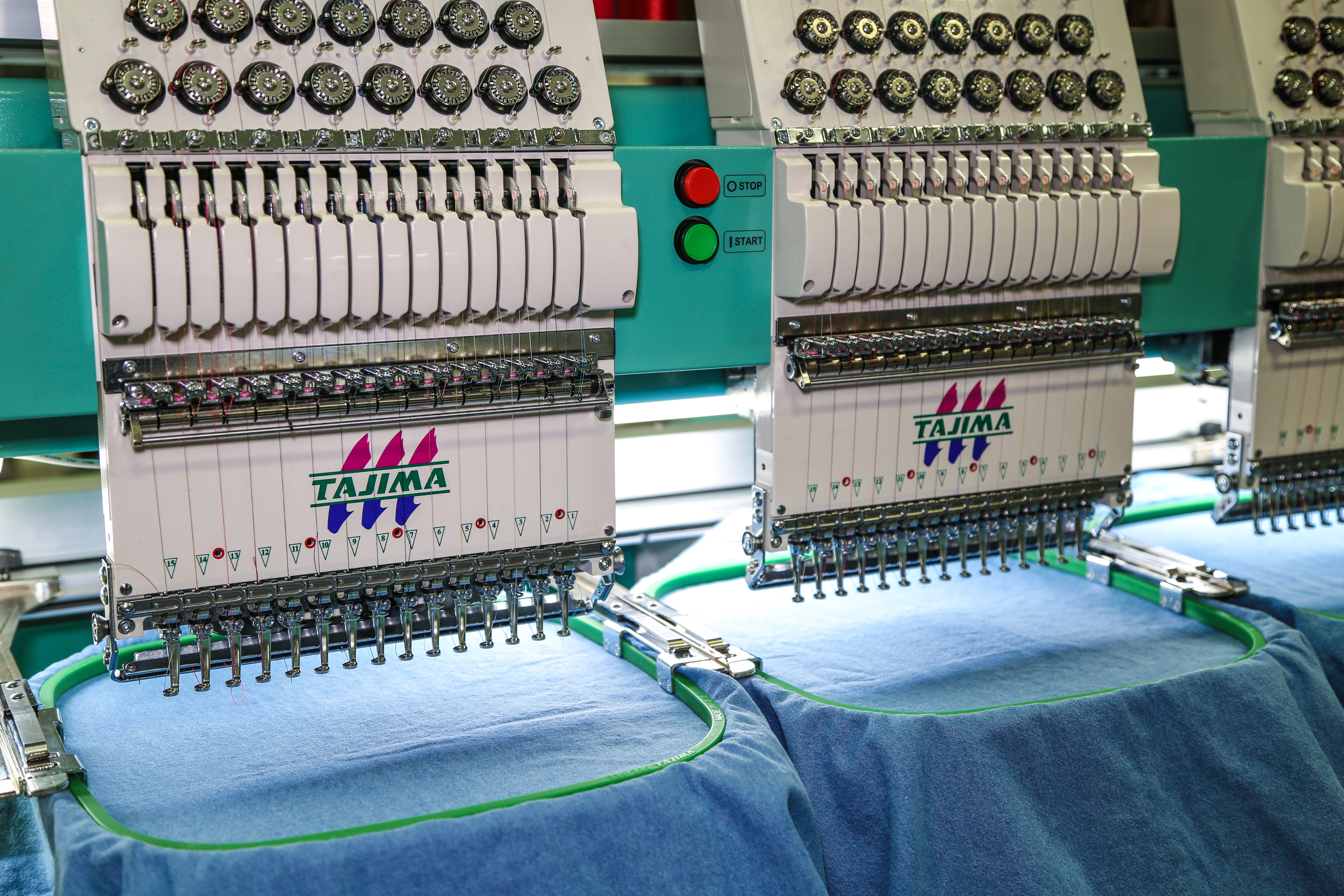 Tajima Type-2 8 Head (TFMX-IISC-1508-360)
The Tajima Type-2 (TFMX-IIC-1508-360) 8 Head Slim Cylinder Embroidery Machine is built with production in mind. When your one-, two- or four-head embroidery can't keep up with your shop's workload, consider Tajima's high-output eight-head embroidery machine. Plus, it's available in a stretch format, so it's easy to stitch even the largest, bulkiest garments. The eight-head machine, which comes with a variety of hoops, has a 2 million-stitch memory of up to 200 designs.

The machine's slim cylinder allows you to embroider on smaller items like socks, gloves and pockets. The standard cap driver stabilization shaft minimizes cap movement for high-speed cap production with precision results. The full color 6.5" Thin Film Transistor (TFT) LCD screen shows the design and location of the needle at any point in the sewing process, X and Y coordinates, machine codes and more. The electronically controlled Frame Drive yields a more precise stitch length and higher quality embroidery. Switching between caps, tubular and other applications is quick and easy, enabling more stitching time and less setup.